Next Agile Open cafe in Prague will be on Wed, Jan 29, 2020.
Join us and share your experiences, ask questions, discuss.
Agile Open Cafe is a meetup for agile practitioners and enthusiasts who want to share their experiences and get new ideas from the community.
Don't expect any training or explanation of what is Agile, Scrum, and Kanban. Agile Open Cafe is a meetup of practitioners who already understands basics and are ready to discuss more advanced topics on their agile journey.
Format: Each participant brings a topic he/she is willing to share with others, we prioritize them (i.e. by dot-voting), and focus on the top priority ones.
When: Wed, 29.1.2020, 6:00pm coffee and networking, we will start at 6:30pm
Where: DEVOTEAM CZECH REPUBLIC, Ovocný trh 1096/8, 110 00 Praha (Place is easily accessible by MHD from Náměstí Republiky (tram, metro) or Můstek (metro), then walking for approx. 5 min. The building is Myslbek and the entrance is from Ovocný Trh 1096/8,  see photo, Meeting will be at reception downstairs where you should present yourself and you will be pickup by Devoteam employees.)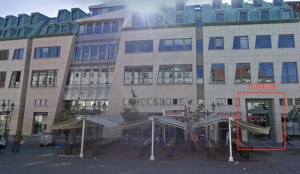 Please register at info@agilniasociace.cz
Meetup is supported by Scrum Alliance. Thanks 🙂
Tags: Agile, Scrum, Open Cafe, Prague, Meet up